The majority of the modern world is IT-driven. People in today's world rely on cutting-edge technology in nearly every aspect of daily life, from work and school to communication and leisure.
Businesses from a variety of industries have also adopted web design trends in an effort to grow their customer bases, penetrate new markets, and boost profits. Businesses go to great lengths to connect with customers, guide them through the conversion funnel, and convert one-time site visitors into devoted customers.
Current web design trends give priority to elements of user-friendly site design such as secure data storage and quick page loads etc.
These web design trends are also important but, according to a recent study, it is the aesthetic appeal that draws users to the site in the first place and keeps them there long enough to make a purchase, sign up for a newsletter, or do any other action the site owners want them to.
Our guide has the most recent web design trends that can help businesses stand out from competing websites and dazzle website visitors at first glance. What are these prevailing web design trends today, and which ones will most likely rule the web development industry in the upcoming year?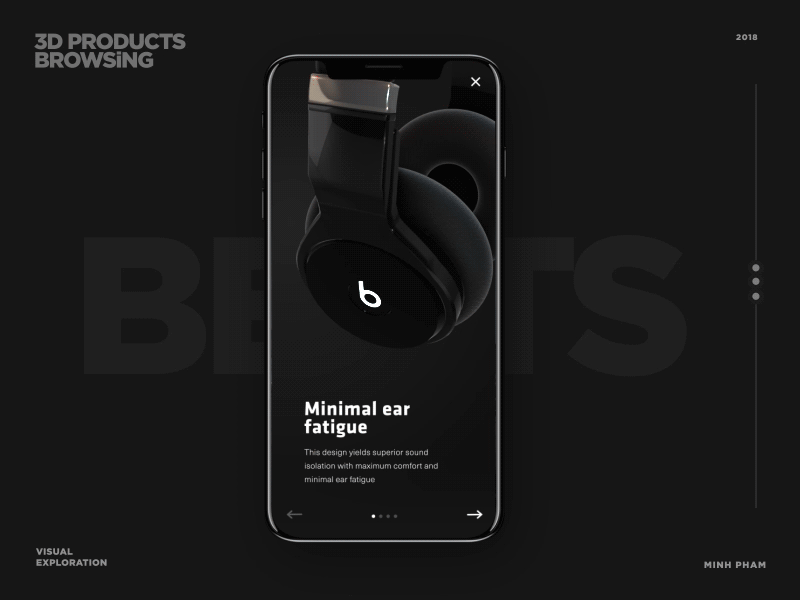 For modest micro-interactions that keep the visitor passively interested, hover animations are the best approach in 2023. These eye-catching web design trends are transforming ordinary page items into eye-catching product reveals.
Several objectives are achieved at once by this trend. The visitor can rapidly review a product without going to another page, which promotes speed surfing. It makes the product animated and gives a sneak peek into potential uses.
It supports a simple user experience by displaying photos one at a time and keeping the page clear of unnecessary images. By animating product images on top of the current page, it can add a new foreground dimension to the website. Give your website design more life through hover animations.
In 2023, we can anticipate a slight frost to impact web design trends, introducing slightly cooler color schemes to glass morphism.
Glass Morphism, a concept Michal Malewicz coined in 2020, offers a sense of depth and texture to web designs and produces exquisitely constructed blur effects with enhanced transparency. The pixels emphasize the nearly impenetrable nature of frosted glass, making them ideal for multi-layered designs.
In 2023, the hottest trend in glass morphism is frosted glass icons. As many icons are modest in size, adding this frosted glass effect can increase a design's visual complexity.
The inclusion of visually impaired users, however, is a serious accessibility concern. Using larger fonts helps improve these glass-like designs while simultaneously ensuring that screen readers and other assistive technology can understand them correctly, ensuring the highest level of accessibility.
The parallax effect is an animation technique that gives the illusion of depth and realism by having the foreground parts move more quickly than the background ones.
It has been a common web design aesthetic for a while, but in 2023 businesses will prefer parallax zoom scrolling web design trends.
This parallax scroll moves the visitor inside or outward from the horizon line rather than horizontally or vertically, producing an abrupt three-dimensional movement.
Custom graphics design can enhance the distinct concept of your website even if they aren't animated. No more stock photos then, as 2023 web design trends require Creativity.
This means an additional line item on your budget, but an authentic illustration (rather than a photo downloaded for free) is likely to offer you an advantage over frugal competitors. Additionally, they are lighter than photos, these visuals load more quickly and may accurately express the message they are trying to convey.
Old monochromatic screens were where dark UI first emerged. When display technologies advanced, this one of the most trending ui ux trends was suppressed for a very long time.
Users have been gravitating towards darker UI web design trends over the last few years since it is thought to lessen eye strain. It's difficult to resist the smooth feel it gives to the UI designs, regardless of the health consequences or benefits.
The dark mode is the default theme for companies like Netflix, Steam, Discord, and Amazon Video. The ability to switch between dark and light themes is a feature that many useful web apps offer.
One of the most prominent web design trends in recent years is retro design. Its appeal is derived from its capacity to arouse nostalgia in consumers and establish a distinctive and enduring connection with them.
Businesses can make their websites stand out from the competition by fusing contemporary components with a vintage, traditional aesthetic. Retro design is a style that will be popular in 2023 and beyond because of its fusion of vintage components with futuristic architecture.
Bold font, subdued color schemes, and straightforward geometric shapes are just a few examples of the historic and nostalgic features that define retro style. It gets its influence from the 1950s, 1960s, and 1970s fashions and designs.
Here is the modern website design example following Retro design.
In a society that is increasingly driven by technology, embedded videos are essential attention-getters, making it impossible to picture 2023's web design trends without this kind of material.
When adding a video to your home page, you must carefully consider your video strategy because it shouldn't be a haphazard collection of clips that are added there merely for the sake of having something.
Use a high-quality smart video for website designing. This refers to a video with a goal and purpose, similar to a sneak peek that can highlight the business or its goods in the best possible way.
Also, it should not be invasive while still being spectacular and convey a message to the spectator that is easily understood.
Many users still wish for the simpler times of the past despite the astounding scientific and technological advancements. The DIY and scrapbook aesthetics utilized in website design transport us to those eras.
These websites feature doodle drawings, cut-and-paste collages, sticker graphics, handwritten lettering, and other "handmade" elements.
This is one of the web design trends that combine physical and digital interactions, demonstrating the continued relevance of closeness and warmth in our technologically advanced society.
No brand with an eye on the future can ignore the development of artificial intelligence and the principles that underlie it. Robust yet long-lasting software capacities are made possible, in particular, by generative AI and cloud-based machine learning deployment across various IT products.
For starters, a chatbot – an AI-driven creation is a crucial component of the innovative web design trends where it transforms into a chatbot leading visitors through their user journey and keeping them up to date on all updates and new advances that your brand gives to your clientele.
The use of chatbots raises the bar for customer service while allowing businesses to significantly reduce the cost of hiring humans to carry out the same tasks. Many Web design influencers are also talking about this website trend.
This web design trend is getting popular among businesses. Monochromatism produces a clear, uncluttered aesthetic and highlights crucial information, encouraging users to take the appropriate actions.
This look is achieved by pairing vivid CTA elements with neutral or pastel backgrounds. Such design compositions are effective because of the use of monochromatic gradients, while a light gradient background makes bold typography and hover animations stand out.
Here, gradients manage to seem visually appealing while remaining unobtrusive, giving the website a new and contemporary design.
Monochromatic designs are among the hot website trends that aid in building brand identification across the entire website.
Pay attention if you have a foldable device. Foldable device design may become as well-known as Nokia's "Brick Phone" (from the early 2000s), with 2023 being predicted to be the year of foldable gadgets.
It's crucial to take into account and minimize the number of interactions that are positioned within the upper 25% of the viewport for these adaptive folded/unfolded postures like the Galaxy Z Fold 4 because users are likely to be unable to access these areas.
The user's behavior is a crucial design factor for these folded states. One hand will likely be sufficient to handle folded states, while two hands will be needed to navigate an unfolded state.
This emphasizes how crucial it is to place user interface and user experience elements close to the thumb and other fingers.
The rejection of conventional UI design principles, particularly those relating to color theory and element alignment, is one of the key draws of Neo-Brutalism. Younger generations find the distinctive and unconventional design style particularly appealing, as does the contrast between contemporary and pre-2000s design.
Neo-Brutalism web design trends are becoming more and more popular as e-commerce websites have been especially quick to include them in their designs. This design, meanwhile, might not be appropriate for every website because some firms might find it to be too unpolished and raw.
Neo-Brutalism is an innovative and fascinating style in web design overall, and in 2023, its popularity is predicted to grow.
The Y2K aesthetics web design trends are becoming more and more prevalent in the web design industry. The Y2K aesthetic combines nostalgia with forward-looking ideas from the present.
The boost of social media has heightened the Y2K aesthetics popularity and quick adoption of new 2023 web design trends.
This is one web design trend of user engagement commonly used by e-commerce sites and portfolio pages of other commercial websites to give users a sense of control over the UX.
Like with physical objects in the real world, users can grab hold of and move objects on screens. The dragging speed can be set by the user themself, giving them control over how they interact with the website.
A variety of trends are gaining popularity and are indicating that 2023 will be an exciting year for web designing. These new website design ideas or trends are a reflection of both the current technical developments and the need for more expressive designs.
The ultimate purpose of web design trends is to produce a positive user experience. A creative web design agency that adopts one of these trends or develops its own distinctive look, must focus on one important thing: to stay true to your brand and effectively convey your message.
Written By : GVM Technologies