Web Development Services in US
We don't just sell websites, we create websites that SELLS.
GVM Technologies develops highly effective websites for your business and thus helps it to soar high! Our web development services aim to create fully functional websites to help your business reach new heights.
A website is the digital storefront of your business. It performs several functions that are usually carried out by people operating in different roles, such as concierge, marketing professional, and customer store representative.
GVM Technologies is a leading website development company that will help you get a professional website developed at cost-effective rates. The website developed will serve as a robust marketing tool that will help reduce marketing costs and establish a better relationship with your consumers.
Why Should You Go For Web Development?
As the leading web development agency, we value our customer's satisfaction over anything else. We treat all our clients' businesses as our own and thus ensure their business grows. We are the leading digital marketing and web development company. Your team will brief us on your goals, and our team will work towards helping you achieve them. Our web development services are of top-notch quality.
We understand your time is valuable, and hence our website development team aims to get the project delivered right on time. GVM, web application development company establishes streamlined communication between our clients and the team of experts.
Our specialists turn your company's needs into technical documentation for your website. A basic design is created by the team's designer(s) as well. The groundwork for the entire endeavor is being laid at this point.
Our in-house programmers write your website's code. As a result of GVM Technologies' implementation of the Scrum process, results are reviewed twice per month. After that, our specialists will conduct User Acceptance Testing and put your website live.
Once your online solution has been deployed, our post web app development services include: We'll keep an eye on it on a regular basis, assign people to work on bug fixes, and give all-around customer service.
Websites like online retailers must be constantly updated to keep up with client demand. These updates can be delivered by a small team that we'll put together for you. After deployment, this kind of cooperation is discussed.

Increase in Productivity

Improves internal connectivity

New Revenue Opportunities

Reduces the cost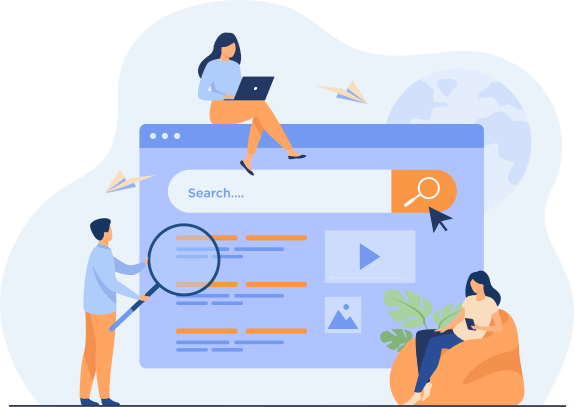 Unmatched User Experience
We as the leading web development company aim to provide a great user experience by introducing unmatched functionalities to the website. A vast range of web design and development solutions is offered by us that helps businesses to stay ahead of their competitors in the web world. We use the latest tools and frameworks to build highly scalable websites for businesses to convert their visitors into leads.
We as the best web development company leverage modern approaches to ensure search engine bots can easily crawl through the web pages developed. Moreover, a user-friendly interface helps attract a good number of visitors to your website.
Our team of developers is all trained and equipped with everything required to develop high-performing websites. We have a large pool of satisfied consumers. Get started with us to obtain the maximum benefits of high-end website development services.
GVM Technologies specializes in providing customized and interactive web design and development services. The websites developed by us are all optimized for SEO. We design your website in such a way that it reaches all your potential consumers. We have a trusted team of experts who deliver proven results to all our clients helping us to become the top web app development company .
We have a trusted team of experts who deliver proven results to all our clients helping us to become the top web app development company .
Understanding your Target Audience

Of people have left a website as it didn't display well on their devices.

Of people left a website because it was badly designed.

Of people abandoned a website because it didn't load quickly.
Here we are following many technologies, and we are excelling at everything. Those technologies are:
GVM Technologies, an agile development company, follows a straightforward working process mantra.

1. Analysis
Our team starts by analyzing your current IT processes and requirements. We study your business objectives and technical needs to craft a custom solution tailored to your specific needs.

2. Design
Once we thoroughly understand your requirements, our team will design a custom solution based on the analysis. We consider your budget and timeline to devise the best possible solution.

3. Development
Our team of developers then builds the solution based on the design. We use the latest technologies and frameworks to ensure performance and reliability.

4. Testing
Before the solution is delivered, we extensively test it to ensure it works as intended. We also ensure the solution is secure and compliant with industry standards and regulations.

5. Deliver
Finally, the solution is delivered and implemented. We provide detailed documentation and training to ensure a smooth transition and successful implementation.