In today's competitive business environment, driving significant amounts of traffic to a business' website is essential for success. Regardless of the size or type of business, it is crucial to build a strong online presence and raise brand awareness to connect with new and potential customers.
Thankfully, social media platforms have developed into useful tools for both new and established business owners to achieve these objectives. According to recent studies, a sizable portion of business owners roughly 92% find social media to be quite beneficial for their enterprises.
Moreover, social media platforms have more than 3.4 billion active users, so this is the best chance for your business to plan an effective social media marketing strategy to generate leads and drive traffic to your website using social media.
In this article, we'll discuss effective suggestions to increase traffic from social media.
To reach a wide range of potential consumers, you should first think about choosing well-known platforms with a sizable audience. So, you must conduct research and choose the most appropriate platform to drive traffic to your website using social media. We have done our research to help you select the best social media platform.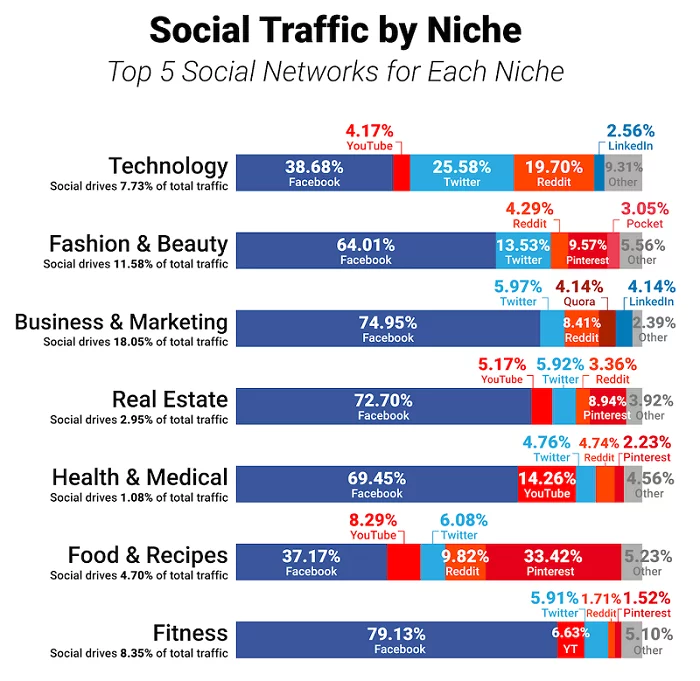 Facebook is excellent for generating leads, and its ad platform easily helps you to target particular audiences.
With more than 2.89 billion active users per month, this platform is best for social media referrals, and many companies have had great success using it to increase website traffic.
Instagram is the second best medium for increasing website visitors if businesses use effective strategies like adding appealing CTA or investing in Instagram paid ads, etc. According to one study, companies can expect to get an average of 0.78% more website traffic for each Instagram follower.
According to research, half of the traffic on B2B websites comes from LinkedIn. Therefore, businesses can improve website traffic and successfully reach their target audience by continuously providing high-quality content and interacting with their audience on LinkedIn.
Twitter is a popular social media channel for referrals, and it is a useful means for increasing website traffic, especially when tweets go viral.
The least popular medium for website traffic generation is Pinterest, but it is the best platform for companies with eye-catching products or services.
Reddit is a community platform with 52 million daily active users. Different businesses are taking advantage of this platform by taking part in discussions related to their niche.
For more visibility, post your inquiries, give lengthy educational viewpoints, and leave comments to build relationships. If people think your advice is useful, they'll want to learn more and are more likely to visit your website.
Social Media Profiles Optimization
Your profile is essential to develop brand exposure and recognition on any social media network you choose. You can drive website traffic through social media profiles if they are fully optimized. You should optimize your social media profiles, just like your website. You can achieve this by adding pertinent keywords to your social media bios.
Add a link to your website on your social media profile. This will help users to quickly navigate from social media to your website.
Additionally, try using your logo when promoting your products and services to increase brand recognition.
Add CTA or Link to Every Social Media Post
One of the best methods to drive traffic from social media to websites is by using appealing calls to action. Your social media postings and videos should always end with a compelling CTA or link. Create links that will direct the audience to your website to increase traffic from social media. Backlinks are an important part of effective social media strategy.
Try adding links and CTAs in every social media material, regardless of the platform or content type. Use a call-to-action that is straightforward and explicit and that instructs your audience on what they should do next.
Use active language and write your CTAs succinctly and clearly for an even greater impact. Let's discuss how to effectively incorporate CTA in your social media posts.
Facebook : You can simply place the link in the caption which will immediately create a link preview that has a clickable image. You can also add CTA's or Links in your Facebook Stories. The best CTA's to generate leads are:
Sign up for your newsletters
Watch your videos
Shop at your website
Learn more about your business
YouTube : You can include links in your videos' captions, pop-ups that appear throughout the video, and screens that appear at the end of the film.
Instagram : In Instagram, CTA's are added in the form of Link stickers. Add these link stickers to your Instagram stories. Instagram also allows adding a link to bios. Every time you publish a new post, you can change the link in your bio to reflect the pertinent information (related to your most recent post).
LinkedIn : LinkedIn users can paste a link straight into the caption, which will create a link preview with a clickable image. To maintain the structure of your postings, you can then eliminate the link from the caption and only preserve the link preview.
Concentrate on Sharing Visual Information
According to statistics, sharing visual information might increase your likes and shares compared to sharing regular stuff. Compared to other sorts of material, visual content has a 40 times higher probability of being shared. To increase traffic from social media, spend time making images that convey a lot about you, your business, and your specialized products.
Post Frequently And Develop a Sharing Schedule
To increase traffic from social media, post frequently, especially when your audience is online which in result increases the number of followers. Companies must be proactive in their use of social media. Focus on consistent publishing if you want to boost the exposure of your profile.
Do not delay posting whenever you notice a spike in your social media activity. To shine in this challenging setting, you must put in constant effort. Utilize the online social media management tools accessible to you to keep a publishing schedule.
To optimize your publishing activities, you can also use a social media planner or calendar.
Join Social Media Groups on Various Platforms
To increase traffic from social media, join social media groups where there are active communities and you have a good possibility of meeting your target audience. Join these groups on Facebook, YouTube, Whatsapp, LinkedIn, and Pinterest to get traffic from social media websites.
For example, if you sell sports shoes, young people and athletes should be your target audience. So it would be beneficial if you discovered online communities with this particular audience. Become a member of these groups and then market your product.
Invest in Paid Social Media Ad Marketing
Another way to increase traffic from social media is investing in paid ads. Your company needs to connect with the right audience if they want to grow website traffic. Businesses should plan highly targeted campaigns using paid social media ads that present tailored advertisements to clients who are most likely to click through and buy your products or services.
The following are the best platforms to run paid social media ads.
There are numerous ways to reach out to potential clients on Facebook and direct them to your online store. With the help of its feature-rich advertising platform, you can target consumers according to their interests, actions, location, and more.
With Google Ads, you have the best chance to promote your goods and services to customers who are looking for them at the moment. You have the choice of showing your advertisement to users on the two biggest search engines in the world: Google and YouTube. Google ads are the best digital marketing strategy to increase traffic from social media.
The best chance of increasing website traffic and sales comes from creating Instagram ads. Ensure that you have a business Instagram account as this will provide you with even more prospects to engage your audience with Instagram ads.
You are now equipped with tested social media strategies that can generate a tonne of website traffic. There is no one-size-fits-all strategy, but these strategies to increase traffic from social media are effective. What is most successful for one company could not be for yours. In any case, you should give the various methods listed above a shot at generating organic traffic.
Start implementing these into practice right now and observe how much traffic your website generates.
Author: Tauseef Azhar