Do You Have Skills?
We Help You To Improve Your Career!
Are you self-motivated and hardworking interested in building your technical skills? Join our web development team to gain core skills related to object-oriented programming, digital analytics, database design, and more. Learn to think critically and communicate effectively in diverse teams. We help you to be proficient in applied technologies.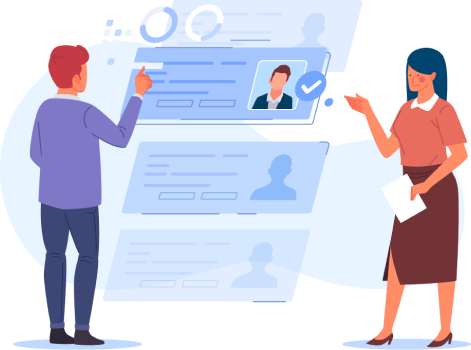 What Does The Recruitment Process Look Like?
Our recruitment process involves extensively finding the right candidate with the best skills and experience that fits the job. We review resumes, conduct job interviews then select and onboard the employee.

At the initial level, telephonic calls take place just to know an applicant's basic skill along with few questions regarding knowledge and work culture.
The first-round interview is basically a one-to-one interview between the applicant and hiring manager, focuses on applicant's work history, expertise, and skills.

In a technical round, an applicant needs to clear up the assigned task. It helps the hiring manager to examine the capacities and knowledge of an applicant.

If the applicant successfully clears up all the interview rounds, then the job offer letter proposes to the applicant based on his/her skill along with package details.
Explore new opportunity and strategies to transform your prowness
with GVM Technologies LLP.